Prolec Catalogue (5th Edition)
---
View Catalogue Online:
Simply click on this catalogue to view in full screen mode or click the side arrows to move through pages.
Jump to a section of the catalogue by clicking a link in the quick index.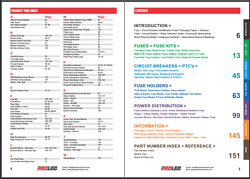 Click to View Pages
Quick Index:
Page 13: Fuses & Fuse Kits
Page 45: Circuit Breakers & PTCs
Page 63: Fuse Holders
Page 99: Power Distribution
---
Download the Catalogue:
This new Automotive circuit protection catalogue has a wide range of products designed for automotive applications. You will find many NEW products not currently featured in our 'Fuse Bible' catalogue. These products are sourced from quality fuse manufacturers around the globe.
Expect to find..
Over 300 new product stock lines.
New product indexes & selection charts.
New circuit breakers from Mechanical Products.
New fuse types, fuse kits & holders.
New range of Electric Vehicle fuses.
New power distribution units & kits.
New junction blocks and busbars.
New switch & breaker panels.
The latest LED flasher relays.
This extensive catalogue contains 152 pages of circuit protection products classified into these handy sections; Fuses & Fuse Kits, Circuit Breakers & Resettables (PTC's), Fuse Holders & Power Distribution Products.