Understanding Thermal Circuit Breakers
What is a Thermal Circuit Breaker?
A thermal circuit breaker is a circuit protection device that contains an alloy reed, two precious metal contacts and the interconnecting terminals. When an over current occurs, heat is generated as the current flows through the reed causing the reed to deflect and snap open. This separates the contacts and safely interrupts the current flow. Two important parameters used to judge the performance of thermal circuit breakers are the time versus current characteristic curve, similar to the fuse, along with the speed at which the contacts snap open. The relative speed at which the contacts separate is a measure of the cycle life under electrical loading demands.
Types of Thermal Circuit Breakers
In contrast to fuse links, thermal Circuit Breakers are resettable. There are SAE definitions for the different types of thermal circuit breakers. Four different reset operational methods are generally available. Type I, Type II, Type III and Type III* .
• Type I (Automatic Reset)
Cycles or continuously resets until the fault is corrected. Type I circuit breakers are typically used to protect circuits which occasionally experience momentary overloads such as wiper motor and headlamp circuits where a self resetting device is preferred. They are not designed for long term cycling. It is recommended they are installed downstream of a main fuse, manual reset breaker or momentary switch.

Shop for Automatic Reset Circuit Breakers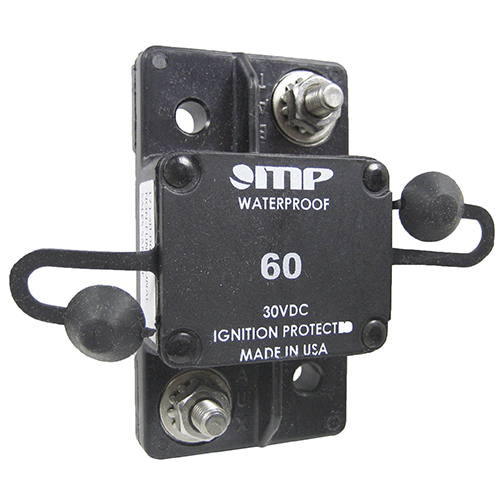 • Type II (Modified Reset)
Non-cycling. Once tripped, the open circuit condition is maintained, except for a low milliamp draw through the resistor. The circuit breaker resets when power is turned off. Requires a minimum voltage/current to maintain open circuit. Type II circuit breakers are typically used in applications where fuse replacement is objectionable, such as power window, seat and sunroof circuits.

Shop for Modified Reset Circuit Breakers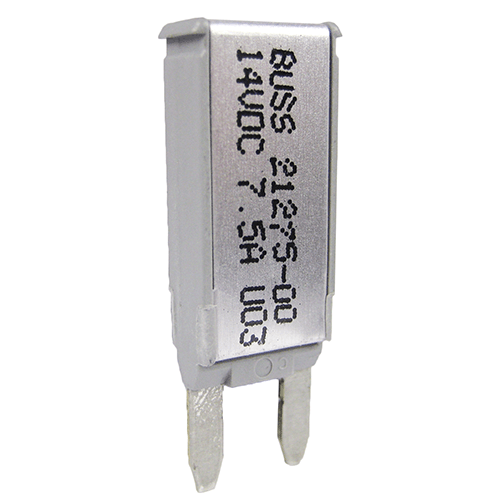 • Type III (Manual Reset)
Non-cycling. Manually resettable circuit breakers remain in the open position until a button, lever or other external reset device is manually depressed to re-engage the circuit. Type III circuit breakers are typically used in applications where a manual reset is desired for safe diagnosis of a circuit fault. In the image shown, pressing the red button will reset the breaker and close the circuit.

Shop for Manual Reset Circuit Breakers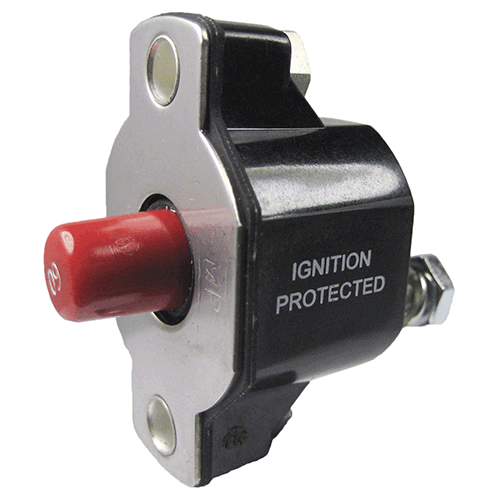 • Type III* (Manual Reset - Push to Trip)
Same as a Type III manual reset breaker however the user can press a button on the breaker to open the circuit manually. In the image shown, pressing the blue button will trip the breaker and open the circuit. Once tripped, the yellow lever will is used to manually reset the breaker and close the circuit.

Shop for Manual Reset Circuit Breakers with Push to Trip Feature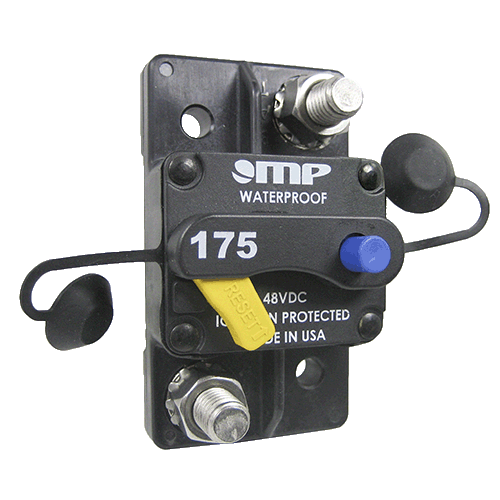 • Type III* (Manual Reset - Switchable)
Same as a Type III manual reset breaker however the user can open the circuit by moving an external switch lever to the OFF position. In the image shown the yellow lever can be used to open or re-engage the circuit by moving the lever back to the ON position, just like a switch.

Shop for Switchable Circuit Breakers