Fuse Speed Explained
The speed of a fuse is essentially the time it takes for the fuse to open when a fault current occurs. The speed at which a fuse opens is governed by the material used in the fuse element, the overload current and the ambient operating temperature.

For example, if a current of 20A was flowing through a fuse rated at 10A, a very fast acting fuse might open in 0.1 seconds, a fast acting fuse may open in one second, whilst a slow acting fuse may take tens of seconds to open.

When replacing a fuse, or choosing a fuse for a new application, it is very important to select a fuse that will open fast enough to protect the circuit from unexpected overloads, but not open under normal operating conditions. The speed of the fuse is also known as the time current characteristic of the fuse.

Fuse manufacturers usually provide this information in a time current curve chart as pictured.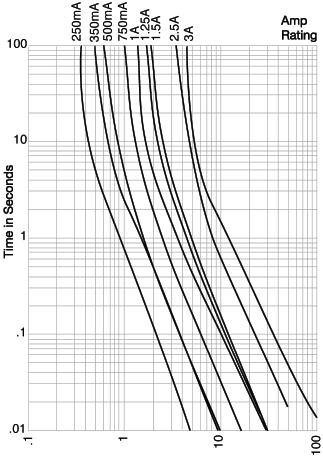 There are 3 main fuse speeds:
1. Ultra Rapid Fuses

(Very Fast Acting, High Speed, Super Rapid, Ultra Rapid or Semiconductor Fuses)


Ultra Rapid fuses primarily provide short circuit protection for semiconductor devices such as diodes, thyristors, transistors etc. As they tend to operate at higher temperatures, this often restricts the use of low melting point alloys, thereby providing a limited capability to protect against low over-current conditions. It is very important to know the I²t value of the fuse when protecting semiconductor devices. To ensure the device is adequately protected, the I²t value of the fuse must be less than the I²t value of the device the fuse is protecting.

2. Fast Acting Fuses

(Fast Blow, General Purpose or General Application Fuses)


Fast Acting fuses are designed to protect less sensitive components and are also used to protect cabling from melting or catching fire when an overload occurs. Fast acting fuses are the most common type of fuse. The manufacturer's time current curves are useful in determing the exact speed of a fuse for different overloads.

3a. Slow Acting

(Slow Blow, Time Delay or Motor Start Fuses)


Slow acting fuses feature a built-in delay that allows temporary and harmless inrush currents to pass without opening the fuse, but the fuse will open on sustained overloads and short circuits. These fuses are designed to accommodate short surges caused by motor start-ups etc.

3b. Dual Element Fuses


Similar to Slow Acting fuses, a dual element fuse features time delay characteristics, but the multi-element construction provides both high performance short circuit protection and reliable overload protection in circuits subject to temporary overloads and surge currents.
Marking
Fuse Speed
FF
Very Fast Acting Fuse


(Flink Flink)

F
Fast Acting Fuse


(Flink)

M
Medium Acting Fuse


(Mitteltrage)

T
Slow Acting Fuse


(Trage)

TT
Very Slow Acting Fuse


(Trage Trage)

Slow Acting Fuse
International Standards such as IEC 60269 have created unified electrical characteristics for fuses that are dimensionally interchangable with fuses built to earlier British, German, French or Italian standards.

The IEC standard uses a 2 character code to classify the time current characteristic (breaking characteristic) of each fuse speed class.
Common Fuse Speed Markings:
Very Fast Acting Fuses
| | |
| --- | --- |
| aR | Partial-range breaking capacity (short-circuit protection only) for the protection of Power Semiconductors. |
| gR | Full-range breaking capacity (overload and short-circuit protection) for the protection of Power Semiconductors or rectifiers. |
Fast Acting Fuses
| | |
| --- | --- |
| gG | Full-range breaking capacity (overload and shortcircuit protection) for general applications. |
| gL | Same as gG. |
| gM | Full-range breaking capacity (overload and shortcircuit protection) for the protection of motor circuits. |
| gPV | Protection of solar photovoltaic arrays. |
Slow Acting Fuses
| | |
| --- | --- |
| aM | Partial-range breaking capacity (short-circuit protection only) for the protection of motor circuits. |
Less Common Fuse Speed Markings:
| | |
| --- | --- |
| gS | Full-range breaking capacity (overload and short-circuit protection) for the protection of batteries & power semiconductors in drives. |
| gB | Full-range breaking capacity (overload and shortcircuit protection) robust for mining application. |
| gTr | Full-range breaking capacity (overload and shortcircuit protection) for protection of transformers. |
| gRL | Full-range breaking capacity (overload and short-circuit protection) for the protection of Power Semiconductors, Line & Cable Protection. |
| gN | Conductors sized to North American practice. |