Prolec Catalogue (6th Edition)
---
View Catalogue Online:
Simply click the side arrows to move through the pages.
You can also view the catalogue in full screen mode by clicking the full screen icon in the lower right corner.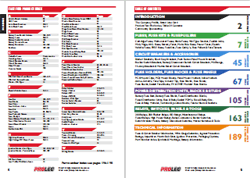 Click to View Pages
Quick Index:
Page 7: Fuses
Page 35: Fuse Kits
Page 45: Circuit Breakers
Page 67: Fuse Holders
Page 105: Power Distribution
Page 147: Junction & Wiring Blocks
Page 163: Relays & Flashers
Page 173: Switches & Circuit Breaker Panels
Page 184: Terminals & Terminal Tools
---
Download the Catalogue:
This new automotive circuit protection catalogue has a wide range of products specifically designed for circuit protection and power distribution in automotive and marine applications. You will find many NEW products not currently featured in our 'Fuse Bible' catalogue. These products are sourced from quality fuse manufacturers around the globe and includes offerings from 4 new brands; Adler, GEP Power Products, GEBE & Menbers. This new Prolec catalogue is 30% larger (with an extra 50 pages) and features over 300 new products.
Expect to find..
Latest fuse varieties including new 58V, 70V & 80V fuses.
New Electric Vehicle (EV) fuses and blocks (125V to 1000V).
Expanded range of fuse kits & trade kits
Expanded range of circuit breakers and brackets.
New battery mount fuse holders.
New power distribution units, fuse & relay modules & kits.
New battery feeder studs and common bus bars.
New relays including skirted, bracket mount and bi-stable relays.
New battery switch range inc. circuit breaker protected switches.
New wiring terminal kits & crimping tools.
New fuse sockets & fuse socket loops to help diagnose electrical faults.