The Fuse Bible (22nd Edition)
---
View Catalogue Online:
Simply click the side arrows to move through the pages.
You can also view the catalogue in full screen mode by clicking the full screen icon in the lower right corner.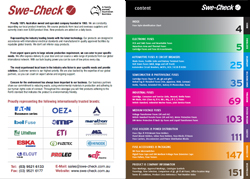 Click to View Pages
Quick Index:
Page 5: Electronic Fuses
Page 25: Automotive Fuses
Page 25: Circuit Breakers
Page 35: Semiconductor Fuses
Page 69: Industrial Fuses
Page 103: Medium Voltage Fuses
Page 111: Fuse Holders
Page 144: Terminal Blocks
Page 147: Fuse Accessories
---
Download the Catalogue:
This brand new edition offers the latest circuit protection products from manufacturers around the globe. This compact yet extensive catalogue includes thousands of product specifications.
What's new?
M205 Ceramic Power Fuses (600VAC / 500VDC)
Manual Reset Circuit Breakers (250VAC / 72VDC)
10 x 85mm Photovoltaic Cartridge Fuses (1500VDC)
DIN NH Blade Ultra Rapid Fuses (Type gS - 690VAC)
DIN NH Blade Ultra Rapid Fuses (Type gR - 690VAC / 440VDC)
DIN NH Fuse Disconnect Switches & Accessories
Photovoltaic NH Blade XL Fuses & Fuse Blocks
Din Rail Mount Fuse Carriers for PV fuses
Fuse Blocks for 22 x 58mm Cartridge Fuses
Fuse Blocks for Bolt Down Fuses (Open / Enclosed)
Waterproof Automotive Fuse / Circuit Breaker Holder
Midi & Mega Fuse Blocks with Flexible Covers
Terminal Block - Screw Type, Double Row with Barrier
Revised schematics and illustrations.
The latest technical specifications.
Fuses are grouped into the following five categories / applications;
Electronic Fuses & PTC's: surface mount, pcb mount, thermal & cartridge fuses, fuse kits.
Automotive Fuses: blade fuses, fusible links, bolt-down & lift truck fuses, circuit breakers.
Semiconductor Fuses: cartridge fuses, bolt-down & threaded fuses, bottle & PV fuses.
Industrial Fuses: cartridge, bottle, blade, British Standard, USA Standard, marine fuses.
Medium Voltage Fuses: voltage transformer, British & German standards & Back-Up fuses.
Fuse holders and fuse accessories are included in the final two sections;
Fuse Holders: fuse clips, pcb, panel mount & in-line holders, blocks, bases & carriers.
Fuse Accessories: fuse pullers, testers, extension caps, trigger indicators & microswitches.