Fuse Tag Styles
A fuse tag is the metal tab extending from the end of a fuse cap.
These tags can extend from the centre of the fuse (centre tag), or the base of the fuse (offset tag).
Tags can be either a solid blade or feature holes or slots for mounting to a holder.

Tag Type: Centre Tags
Centre Tag Varieties:

Centre Blade Tag

Centre Bolted Tag

Centre Slotted Tag
Tag Type: Offset Tags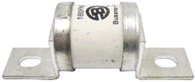 Offset Tag Varieties:

Offset Blade Tag
Offset Bolted Tag
Offset Slotted Tag