Switches & Switch Panels
We sell a variety of switches including single or double pole Battery Disconnect Switches that are designed to handle currents up to 600A in circuits up to 48Vdc*. Perfect for cars, trucks, buses and boats. We also offer a variety of custom switch panels with optional circuit breaker protection.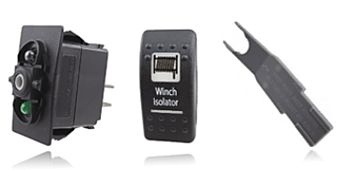 Switch bodies in different configurations plus a large variety of switch actuators.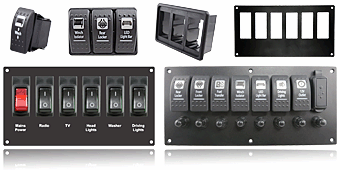 Create your own panels with switches & circuit breakers.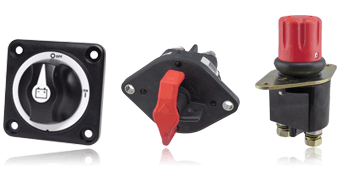 These switches are designed to switch off battery power in a vehicle.

Automotive switches are commonly found in vehicles or boats and used to control power flow to electrical accessories such as driving lights, LED light bars, air compressor, GPS, winch isolaters etc. Swe-Check offer a range of Carling switches to suit requirements like on/off switching and momentary switching. In addtion each switch lever can be customised to match the device the switch controls from a range of up to 20 different switch actuators which feature a printed icon and text eg. Fog Lights.

The switches can also be fitted into one of our custom switch panels which can fit 4, 6 or 8 switches. Swe-Check also sell a range of panels that allow the addition of a circuit breaker to each switch circuit to provide overload protection for the device.

If you want to switch higher currents up to 600A, we also sell several different master circuit switches which are available in either single to double pole options and designed for use on voltages up to 48Vdc*.