Littelfuse FLEC Power Distribution Unit (Unpopulated)
Suitable for 18 Micro ISO280 relays & 28 Mini fuses 12VDC or 24VDC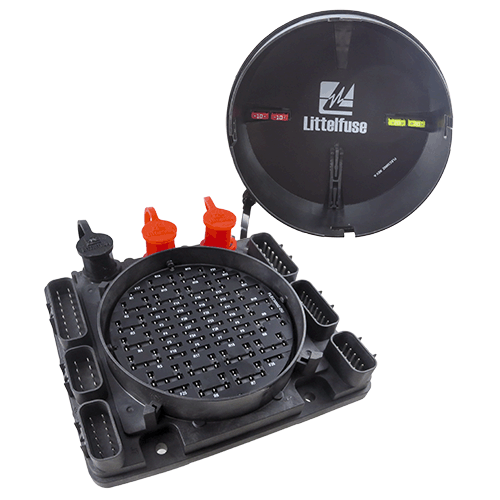 FLEC3000Z-0U pictured.
No components included
Shop with confidence - Fast Delivery.
FREE shipping within Australia for orders over AU$ 99.00.
Goods can be exchanged* within 7 days.
On-line freight tracking of your parcel.
Same day processing of orders received before 2pm AEST.
Read more about... Australian orders or International orders.
Our PDF datasheet contains all the detailed specifications of this product.
View other products from our range that can be used with this product.
PRODUCT INFORMATION
The FLEC is a configurable power distribution module. It accommodates circuit protection components in a sealed IP67 rated housing with a compact footprint & high component density. This unpopulated module features capacity for 28 x Mini fuses / Mini circuit breakers and 18 x 12VDC relays. Power inputs and outputs are handled via 3 studs and 6 plug-in Delphi connectors. This unit includes a fuse puller and storage for 4 spare fuses. The following is an overview of the pre-configured circuits;
Common Power Feed 1:
4 x fuse circuits
8 x SPDT relays (with fuse protection on outputs).
Common Power Feed 2:
4 x fuse circuits
8 x SPDT relays (with fuse protection on outputs).
Stand-Alone Circuits:
4 x fuse circuits
2 x SPDT relay circuits (no fuse protection on outputs).
Our datasheet includes the internal circuit diagram of the unit along with other specifications. Fuses, relays and Delphi connectors are not included and available for purchase separately. Custom units can be ordered from the factory designed to suit your own requirements. Minimum order quantities apply.
We sell a range of products & accessories to suit this product.

For complete product information, please view our product datasheet
ORDERING INFORMATION
Order Multiple: Product must be ordered in multiples of the quantity specified. This is NOT the pack size or how many pieces are in the pack.
Pricing Each: All prices are for 1 piece (each) and tax free. Prices are listed in Australian Dollars (AU$).

Stock Quantity: Stock quantities are updated daily but subject to prior sales, please contact us if there is not enough stock to complete your order.
Order Quantity: Type in the quantity you require in accordance with Order Multiple (explained above).
Specifications: *Specifications may vary, please check product datasheet before ordering.
Disclaimer: All information on this website is subject to the terms of our disclaimer notice.
More Information: Learn more about Australian orders or International orders.