MTA 01500 Module for ISO Mini Relays
2 x Mini Relay module with loose terminals.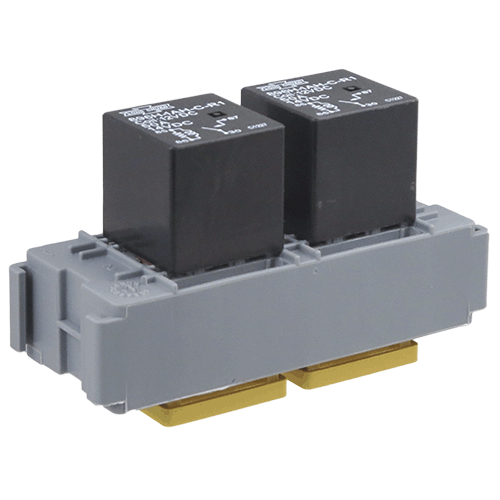 01500K pictured.
Relays not included
Shop with confidence - Fast Delivery.
FREE shipping within Australia for orders over AU$ 99.00.
Goods can be exchanged* within 7 days.
On-line freight tracking of your parcel.
Same day processing of orders received before 2pm AEST.
Read more about... Australian orders or International orders.
Our PDF datasheet contains all the detailed specifications of this product.
View other products from our range that can be used with this product.
PRODUCT INFORMATION
This module can be installed stand-alone or combined with other modules to create a customised power distribution unit. We offer a variety of mounting brackets, covers as well as a wide range of modules to suit components such as fuses, relays, circuit breakers & diodes. This system is perfect for adding electrical circuits to cars, buses, trucks etc.
This module is designed to fit 2 x ISO Mini relays (5 pin). There is no internal bus so a cable must be fitted to each position. Each kit includes;
1 x Module
10 x Terminals
Secondary Terminal Locks (TPA)
We also offer a range of terminals to suit different cable sizes which can be ordered seperately. Relays are not included.
We sell a range of products & accessories to suit this product.

For complete product information, please view our product datasheet
ORDERING INFORMATION
Order Multiple: Product must be ordered in multiples of the quantity specified. This is NOT the pack size or how many pieces are in the pack.
Pricing Each: All prices are for 1 piece (each) and tax free. Prices are listed in Australian Dollars (AU$).

Stock Quantity: Stock quantities are updated daily but subject to prior sales, please contact us if there is not enough stock to complete your order.
Order Quantity: Type in the quantity you require in accordance with Order Multiple (explained above).
Specifications: *Specifications may vary, please check product datasheet before ordering.
Disclaimer: All information on this website is subject to the terms of our disclaimer notice.
More Information: Learn more about Australian orders or International orders.