Bussmann 251 Mid Range Circuit Breakers (255-B-1)
Automatic Reset, 32VDC, Threaded Mounting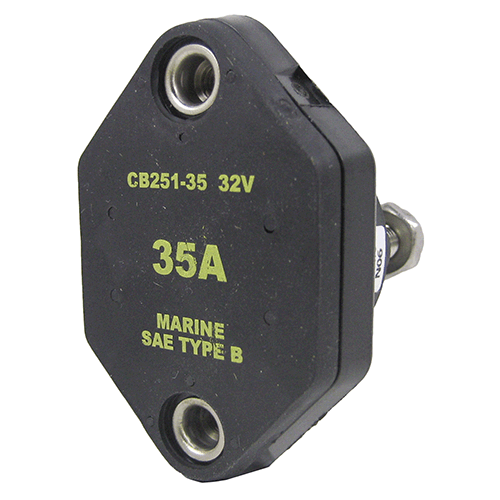 25135-B-1 pictured.
Shop with confidence - Fast Delivery.
FREE shipping within Australia for orders over AU$ 99.00.
Goods can be exchanged* within 7 days.
On-line freight tracking of your parcel.
Same day processing of orders received before 2pm AEST.
Read more about... Australian orders or International orders.
Our PDF datasheet contains all the detailed specifications of this product.
PRODUCT INFORMATION
This single pole thermal circuit breaker is ignition protected & weatherproof (IP 66 rating). Typically used in DC power systems in marine applications (as a main or branch circuit breaker), truck, bus & RV systems, add-on protection for accessories, etc.

Automatic reset circuit breakers will open the circuit on overload and close the circuit automatically when the operating current returns to normal. However, they are not designed for long term cycling. It is recommended they are installed downstream of a main fuse, manual reset circuit breaker or momentary switch.
For complete product information, please view our product datasheet
ORDERING INFORMATION
Order Multiple: Product must be ordered in multiples of the quantity specified. This is NOT the pack size or how many pieces are in the pack.
Pricing Each: All prices are for 1 piece (each) and tax free. Prices are listed in Australian Dollars (AU$).

Stock Quantity: Stock quantities are updated daily but subject to prior sales, please contact us if there is not enough stock to complete your order.
Order Quantity: Type in the quantity you require in accordance with Order Multiple (explained above).
Specifications: *Specifications may vary, please check product datasheet before ordering.
Disclaimer: All information on this website is subject to the terms of our disclaimer notice.
More Information: Learn more about Australian orders or International orders.