Why use a fuse?
A fuse provides a safe and cost effective way to protect an electrical device or installation from electrical overloads which could damage components or wiring and potentially cause a fire. Once a fuse is blown, it must be replaced with a fuse of the same specification to ensure the circuit is properly protected.

Most fuses are fitted into fuse holders which make them simple to replace. The exception being SMD fuses and PCB mount fuses which are soldered onto printed circuit boards making them difficult to replace. A fuse holder is usually mounted in a convenient place for inspection and replacement of the fuse. Fuses can often be replaced without requiring any electrical qualifications or expertise eg. cars.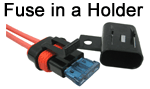 Why not use a circuit breaker instead?
Fuses have a number of advantages over a circuit breaker.
They are generally smaller and cheaper.
Some applications also require very fast blow times that cannot be achieved by using a circuit breaker.
Circuit breakers can be sensitive to movement or vibration which could cause the switch to trip when no electrical fault exists.

What are the main fuse categories?